We have all heard the terms 'recycling' and 'sustainability' very often. But how much do we actually practice?? How does one do this?
This is exactly what we four friends, who had known each other for over fifteen years, wondered. Our friendship dates back to the time our kids went to school together, and though they have long since left school and are now professionals in their respective fields, our friendship has stood the test of time. If anything, it has deepened over the years. It is said, "When we tend to our friendships, they grow in connection and nourish us in return."
Traditionally, we invest huge amounts of time and money in customising unique attires for weddings and other traditional functions. And over time, we have a wardrobe full of these beautiful pieces.
Despite our varied interests and professions, our similar mindset prompted us to come together to brainstorm on avenues available to simplify our wardrobes, while giving us a chance to leave a lasting im-pression of sorts… बस एक छाप छोड जानी है!
Thus, on a fateful day, while sipping coffee and chatting with the girl gang, Jayshri came up with the idea of recycling sparingly used heavy traditional wear. Jigna and Taruna shared that they often give away their heavy outfits to lesser-privileged relatives who are more than happy to use them. Monicka revealed that borrowing each other's outfits is common among Gen X. Several cups of coffee later, the outline of a new venture started taking shape. Exhilarated by the thought of realising our dream in real life, we promptly named ourselves 'The Awesome Foursome'!
Life seemed to take on a new meaning, so we naturally named our venture, 'Studio Arth'. We believed that we needed to rent a small place to house these outfits and hence the word 'Studio' in the name; 'Arth' is the Hindi word for 'meaning'. Thus, 'Studio Arth' was born to give a new meaning to pre-loved clothing.
At Studio Arth, pre-loved outfits are collected from well-meaning donors; they are then curated and sold. Each outfit is carefully labelled to make it affordable to one and all! Fortunately for us, the rental deal didn't go through, which led to the idea of organising exhibitions across the city.
We initiated the process by decluttering our own wardrobes and collecting pre-loved clothes from close friends and relatives. We then sanitised them to follow Covid protocols, and thereafter, personally checked each outfit in detail, repairing/ darning where required, discussing the pricing, and finally labelling them with the agreed prices.
Once we had a sizable number of outfits, we scouted around for someone willing to sponsor a banquet hall where the exhibition could be held. Our well qualified children stepped in to help their dear moms by customising banners and spreading word through social media. We held our first exhibition in August 2021! It was a huge hit, and we have never had a second thought since! We have held four more exhibitions and now our baby is a year old! Nothing is easy, but when you aim high, you sail through difficulties.
Those who donate are grateful that they have had a chance to give a new meaning to outfits that they once lovingly bought and wore. Our exhibitions have witnessed buyers walk out happy and return for the next one! Some have even gone on to donate their pre-loved clothes and pick up something that caught their eye. We have noticed that our buyers hail from varied strata and age groups. Young people are certainly practical! They do not believe in investing heavily for a single Instagram story! Many of them have a new idea to share and a new story to tell us – however, all agree that the purchase of pre-loved outfits saves them a lot of money. They go back home ecstatic after getting 7-8 outfits for the price of 1 new outfit!
On our part, we have channelled the sales proceeds into supporting various social causes – be it tying up with a non-profit organisation to make food available to the underprivileged, organising a cancer detection camp and providing aid for medicines and other needs of cancer patients, organising a workshop to create health awareness, etc.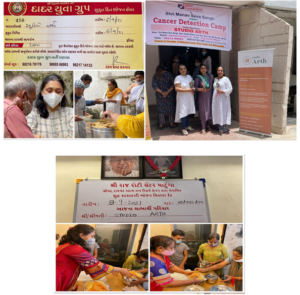 An important fallout of pre-loved shopping is in keeping our Mother Earth healthy by being conscious of our resources and reducing waste. The onus is on each of us to ensure that we do our bit to conserve and live sensibly.
We invite you all to join hands with us to work towards a sustainable future. Let us declutter our wardrobes and spread happiness – let us give a new Arth to our lives!
---
About: Ms. Jayshri Nandu,
Jayshri is a powerful force in the workplace and uses her positive attitude, creative and tireless energy to encourage others to work hard and succeed. A designer herself, she understands the need to recycle, as styles change over time. For her, fashion needs to be sustainable, easily accessible, and inexpensive. In 2013, she co-founded Ista Sarees that caters to the young Indian woman who loves her sarees and rich handlooms. In her free time, she likes to travel, cook and design.
About: Ms. Jigna Gala,
Jigna has a background in fashion design and is an integral part of her family business. Blessed with a calm, composed and philosophical outlook, she believes in giving back to society to ensure one's own well-being. She is often found pondering over philosophical thoughts, exploring new places and trying out new cuisines.
About: Ms. Monicka Thakker,
Monika is a teacher and fashion enthusiast who provides free academic guidance to those students who cannot afford it. For her, every child is a unique creation of The Al-mighty and has a right to be educated.
About: Ms. Taruna Gosar,
Taruna is highly resourceful with a 'can-do' attitude. She has run a toy library in the past and uses her free time to serve as a part-time schoolteacher.