After years of spending one's life to find the purpose behind it, there is an epiphany of sorts. One needs to have an open mind to recognise it. Stronger the desire, stronger will be the opportunity. Let me narrate a short story that changed not only my life but also the life of others. I am convinced that God made me an instrument to bring a kindle of hope to a few underprivileged children and help them stand on their feet through education. This has given me a sense of fulfillment that would not have been possible otherwise. It has convinced me that good thoughts and deeds come back in some way to create a circle of positive influence that spreads exponentially once you have passed the rigorous test that God may subject you to, to check your resolve. Let me share my story with you.
During a social awareness campaign in our ward (the S Ward), one concern which was raised by several of the residents was "Our girls do not have a school in this section/area". I was keen on making a real difference by addressing this concern, and so I decided to start a school for the children from economically backward families of my area, who are unable to afford paying fees at other schools. On 23rd April 1992, we established and registered our Trust, and within just 50 days, on 12th June 1992, we started our school. My wife and I went around each and every household in our ward and got 402 students to apply for admission to our school.
The school started with Nursery, Primary section, and Secondary section up to Standard 8. The challenges we faced in the initial years were very many, first of all, the school is located in a mountainous area, with slums around inhabited by people with zero understanding on the importance of education or schooling. The real challenge was in getting parents to appreciate the importance of sending their children to school. The first five years were doggedly spent in creating this awareness. By 1994-1995, we had classes up to Standard 10.
It was then that the Chembur High School Trustee spoke to me about the work being done by KEF, a corporate education foundation in our ward, the M-East Ward. He was kind enough to arrange a meeting for me at his school. Another friend and Principal of Amar Kor Vidyalaya, accompanied me, and we met Dham Sir for the very first time in 2006.
The biggest challenge we faced then was that in spite of my Standard 10 students knowing basic English grammar, they were unable to express themselves and communicate in English, which would definitely impact their ability to perform well in college. The children lacked confidence and were scared to interact with other English medium school children. Our children could not cope up with English as a language of communication in college and the English medium school children fared far better than them, demoralizing our children further.
I expressed my concern to Dham sir during the meeting with him. Dham Sir suggested I start a Spoken English program through the Foundation in my school. The program soon started bearing fruit and our school children started speaking the English language well and became confident in college. This was the start of my school's relationship with the Foundation. Over the years, based on my school's requirements, the Foundation started designing projects and supporting us with them. Programs like regular eye check-ups for children and their parents, eye operations for children were supported by the Foundation.
As the school grew bigger, the Foundation helped us build bigger toilets for the school children. Our school had cement roofs, which made the classrooms unbearably hot. With the help of the Foundation, these were changed by adding panels to the roof.
The real meaning of parenthood and parental responsibilities was taught to our school parents by the Foundation, not our teachers. While we had opened the school for the slum children, it was the Foundation which brought about an overall change in the behavior of the parents and their involvement with their children.
Under the guidance of Dham Sir, we started a semi-English medium section, which helped our children to speak the English language more fluently. In today's times, while I see many Marathi medium schools around us shutting down, in our school, admissions are full, and we are forced to turn away applications as there are no seats left.
I very often ask my staff to emulate the work ethics of the Foundation team which is so focused on the work assigned to them, which considers it to be their personal responsibility and does not look at the clock.
One of our success stories is Amol Jadhav, from the 2010 batch who scored 83% in SSC. He was awarded the 'Kotak In Search Of Excellence' scholarship to pursue higher education. After studying at Dr. D.Y. Patil Medical College, Navi Mumbai, he joined K. J Somaiya Super Specialty Hospital, Sion and worked there. He was selected by Maharashtra Government Health Department as an Operation Theatre Scrub and since December 2017, works an assistant surgeon performing independent surgeries.
The pandemic and lockdown restrictions forced education to move online for even schools such as ours. The Foundation supported our school-teachers and provided all the required guidance for starting online schooling. We received Tabs through the Foundation for our children and schoolteachers. These Tabs have the entire portion in-built; our teachers were taught how to operate these tabs and how to teach the students with them. We have now realized that if we want to work in this digital age, we will need Tabs and digital classrooms. We cannot do away with them. The Foundation has taken up the responsibility to help and guide us through this transition. COVID relief kits were also distributed to the families in collaboration with the Foundation.
Private trusts such as ours need all the support and assistance from corporates, and if there is anyone who believes that we do not need NGOs in Mumbai, they are wrong. We really need NGOs in Mumbai, especially in Adivasi wards like ours which have no proper roads and if in these areas, there are no schools like ours, the children suffer, they need to travel far to attend school. Boys will still manage to go to school, but the girls will not be able to do this.
Today, the ratio of girls in our school is way higher than the boys, and all the credit goes to the safe environment which has been created in the school. The parents have placed a lot of trust in us, and to maintain this trust, we are making all efforts to provide quality education through the teachers and support staff. The partnership with the Foundation has played a huge role in us achieving this.
With the success that God has bestowed on us, we have started dreaming big. We would now like to aim higher and set up a junior college for all our students in the future and the school management also intends to start an English medium school. The main challenge here would be good infrastructure, a well-furnished building for the students as well as ventilated and spacious classrooms. Just as He provided me with the necessary support and assistance of the Foundation to come this far, I pray that He makes it possible for me to serve my community further. I also pray that He blesses each person with His Grace.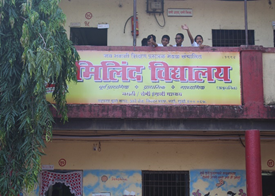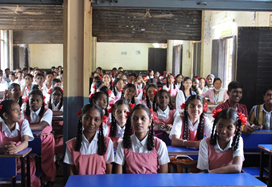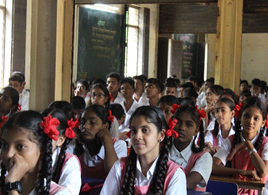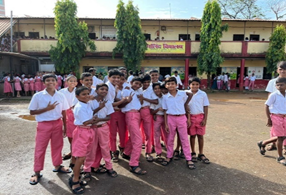 ---
About: Mr. Sadanand Raorane,
A passionate educationist, Sadanand Raorane is also the Secretary of Jay Bhavani Shikshan Prasarak Mandal, General Secretary of the Mahamumbai Education Society Association, working President of Arjun Raorane Vidyalaya & Hemant Keshav Raorane Junior College and Executive Trustee of Anandibai College, Vaibhaivwadi.
She can be reached on : milindvidyalaya@gmail.com