Many moons ago, in a small room acquired at a measly rent, sat a group of stately ladies with a daunting task at hand. In elegant simple cotton sarees covering their neatly-bunned hair, the ladies' committee sipped on chai prepared by another group of ladies who were too shy to even step out of the kitchen.
"Par baima*, ame loko su karsu, amne toh thodu moti nu kaam avde chhe, biju toh kai nai!", the shy ladies hesitantly told the committee in Gujarati. Other than running their own kitchen and a small tiffin-and-canteen service (which had also been supported by the committee), all they did in their spare time was weave some beads and threads together to make the traditional covers (hindoli) for coconuts, and beaded mats used on special occasions.
The IHS** committee knew very well that given the limited resources they had on hand, it was important to channel the talent possessed by the ladies in creating something that would appeal to the modern Indian woman.
Several brainstorming sessions and experimentations later, the traditional white, green and red colours of the 'hindoli' gave way to a burst of vivid colours at the skilful hands of these ladies. Over time, the beaded products in sophisticated colours and elegant designs caught the fancy of the society ladies and the young professionals. The elite of Mumbai flaunted the beautifully handwoven batwas and clutches, with the vibrant necklaces gracing their elegantly draped sarees. Tara slowly expanded into tableware for elegance in dining, penholders and gift items for corporates and festivals.
The committee realised the need to streamline this avenue further, giving birth to 'Tara by IHS'. As the popularity of Tara grew, so did the smiles on the faces of these ladies. Income started flowing in, and they started to reap the fruit of their labour. Dreams of educating their children were no longer distant, and their confidence levels began to soar.
Growing demand led to the pressing need for new designs. The constraint was that the work involved either three beads or five beads being woven in a certain manner, so all designing needed to revolve around the 'teen ya paanch moti' pattern. This posed and continues to pose a hurdle for the designers.
A couple of years ago, Ahmed Moustafa, an artist and scholar of international repute, known to the then President, offered to help create a mural. A painting by him would be replicated in beadwork. The ladies worked in an assigned room under his guidance. They watched him mix paints in various proportions creating shades they never knew were possible.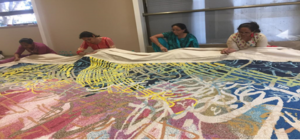 The mural required them to sit and weave collectively on this one piece of work, a feat never undertaken before. Weaving one tiny bead at a time, at times undoing work that didn't quite sit right, and at other times, bursting into shy giggles, they employed their beloved 'teen moti ka kaam' to painstakingly create a mural. When it was done, the ladies could hardly believe their own eyes – it was the size of an entire wall, one fit to be displayed in a museum! The humble 'teen moti ka kaam' had transcended to another level, and they began to see the limitless possibilities of their talents.
As time went by, the composition of the committee changed and the need to further engage and guide these ladies was acknowledged – giving rise to a mentorship program. Mentors lend an ear to the difficulties of their mentees and help in every way possible, often times going beyond the needs of bead craft. Somewhere along the way, the mentors have also started learning – about designing a craft, exploring new markets. Between many a 'Baima yeh toh possible hi nahin hain' and an equal number of 'Ho sakta hain, baima, aap try toh karo' is the resolve to tide over the hurdles in creating a new product. This helps create a bond between the designer and the creator, a bond formed out of respect and love for each other!
How times have changed now! In a small room now, there sit a few committee members, sipping on chai, this time provided by a chaiwala, checking and admiring the wares woven and brought in by the ladies. The once-shy ladies confidently sit around in the same room, sipping on chai and eating snacks as they wait for their products to clear quality check, engaging in small talk, enquiring about each other's families.
In addition to the beads, now crystal, kasab and jute thread are also used to create new looks and styles. The ladies are groomed to attend exhibitions and sell the bead craft themselves, standing alongside their mentors. They are encouraged to help each other create new products and teach/ learn the importance of sisterhood. The value of remaining ethical in a competitive world is strongly inculcated within them.
Each Tara product is tagged to the maker of that product, so each time a product sells, one household benefits directly and the entire proceeds go into helping that lady further her dream of owning a home, paying for her children's education, and sometimes even buying that one new saree she has been dreaming of for over a year.
I am the currently the Secretary of IHS. My job title entitles me to more responsibility, while continuing my role as a designer and a mentor. My association with IHS goes back to my childhood, 'giving duty' at exhibitions with my mother in her role as a committee member. She, in turn, started her association with IHS when she accompanied her mother similarly as a child. Being a part of this vibrant group has taught me humility, gratitude and brought about a passion within me to support home-grown businesses and small enterprises. Ex IHS committee members continue to help the cause; as we say, once an IHS member always an IHS member.
If we take a step back in this mechanised, corporate, and fast paced world, and learn to love and embrace the beautiful imperfections that are a part of hand-made products, we would not just be buying a product, we would be putting a value on someone's time and efforts, holding a hand and helping them move forward.
I strongly urge everyone to consider the small vendors and help where possible. For all the handicrafts out there, the fight for survival in a mechanised world of cheaper goods is a very real one. Art is not just a form of creativity, it is a form of expression, spirituality, and a blessing to be cherished and nurtured. Buy handmade, buy homemade, hold the hand that creates and nurture a home. Help the humble stars among us shine brightly!
* Many of the ladies, being from Saurashtra, speak in Gujarati and baima is a term of respect used to address each other.
**IHS is an abbreviation for The Ismailia Helping Society.
---
About: Ms. Shaheen Rattonsey,
Shaheen serves as Honorary Secretary of The Ismailia Helping Society ('IHS'). Hailing from a business-oriented family, but one where service towards one's brethren is a critical aspect, she carries forward the legacy of offering her services to the IHS, just as her mother and grandmother did in the past. She belongs to the faith of Ismailism where volunteering and service to mankind is given a lot of importance and strongly believes that volunteers and beneficiaries are two sides of a scale, where the receiver grows materially and so does the provider – in humility and empathy. Her aim for the committee is to reach out to as many needy and talented women and help them increase their livelihood through their talent and art.
She can be contacted at : tara.society1@gmail.com